Thrilled to get a mention as a #proud member of HPKUK http://www.hpkuk.uk for some of my recent work for Clive Christian Interiors Marbella. As a skilled #team of artisan painters we ALL strive for excellence, superb paint finishes and top customer service.
Clive Christian Malaga
FURNITURE, HAND PAINTED KITCHEN BY RUSS PIKE
Clive Christian Marbella | Painted Kitchen
Clive Christian Marbella; #painted kitchens are grand and iconic pieces of bespoke furniture; they offer beauty, indulgence and elegance! The classic designs are timeless, with the construction built to last… The traditional classic hand painted kitchen with an eggshell finish and distressed antique glaze can unfortunately appear to look yellowed and tired over time. The overall cosmetic appearance (paint work) can appear dated, leaving these statements of grandeur in need of fresh new look.
Two-colour kitchens are very popular nowadays with focal emphasis on mid to deep colours on the central island (should you have one) with a complimenting colour to the main kitchen units. Alternatively deeper base units and lighter wall units.
Clive Christian Furniture Co' began in the 1970s by transforming the utilitarian into the pleasurable. Kitchens were simply tool rooms, cooking merely functional. Clive Christian's vision showed this room for what it was, the heart of the home, a social hub of art, warmth and conversation.
Breaking down boundaries and condemning convention, Clive Christian implemented a statement chandelier into the kitchen of his 19th century Cheshire manor. This ornate fixture was the centrepiece of Clive Christian's very first bespoke design – the Victorian Kitchen. This was a grandiose resurrection of the lavish interiors of the Victorian era, symbolic of Clive Christian's devotion to tradition and culture, history and luxury. ("The House of Clive Christian," 2018).
Finding a kitchen painter
HPKUK brings together the most highly skilled kitchen painters and furniture painters so that clients throughout the UK and Europe can easily access the best craftsman for their project.
Whatever the size of your project, you can expect the same exceptional quality, attention to detail and personal service from every one of our HPKUK hand painting kitchen experts. http://russpikeinteriors.co.uk
We are passionate about creating beautiful hand painted kitchens, sprayed kitchens and painted furniture that are individual to you. There is no compromise on quality, with all our experts using only the best materials, techniques and expertise to create hand painted kitchens and furniture that last and maximise every detail within..
Kitchen painter Malaga, kitchen painter Sotogrande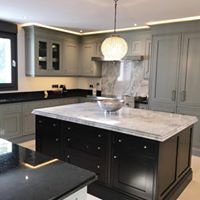 The kitchen featured here in the La Reserva, Sotogrande and was repainted by HPKUK specialist kitchen painter Samantha, on behalf of Clive Christian Marbella. www.hpkuk
Sam works on various projects for Clive Christian throughout the province and is based in La Cala de Mijas, Malaga; covering the whole Andalusia region of Spain's Southern Coast.
Clive Christian Marbella, Kitchen painter Marbella
Sam prides herself in providing a first class service, besides an unbelievable paint finish! We are very proud of Sam, here at HPKUK, she is a very valued, talented and respected member of our team.
Here's what Sam has to say…
My focus is on providing you with a beautifully painted kitchen that is lighter and brighter and so uniquely yours.
My sole aim is 'excellence' using the best tools, decorative paint techniques and top quality materials to ensure that you have a showroom standard finish that is stunning, durable and long lasting. I use the very best water born paints which have an A+ rating, are low in VOC's and odourless which are also child and pet friendly.
Everything is painted, even the bits you don't know you have as attention to detail is essential. Nicks and knocks are repaired and gaps are filled giving you a seamless flow from cabinet to cabinet, cabinet to wall, cornice or light pelmet.
Kitchen painter Malaga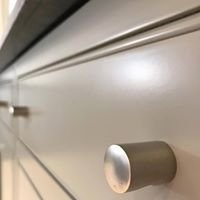 I bring knowledge, experience and fresh ideas to your painting project and never tire of seeing the transformation of your refurbished kitchen or furniture into something you're proud of in your home.
If you want to sell your property and it needs a fresher look then painting the kitchen is an affordable way of updating compared to a refit. A low key service with a high impact! Clive Christian Marbella
Just bought your new home but don't like the kitchen? Then have it painted and put your own individual stamp on it with an almost infinite choice of colours.
Clive Christian Marbella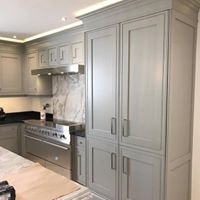 If you want to go further with an upgrade with replacement handles and worktops or make cupboard modifications I know a man who can! Clive Christian Marbella
I also paint utility rooms, bedroom fitted and free standing furniture and studies with the same time and care taken in the preparation through to the final finish.
Whether it's a contemporary style or a timeless classic, you can rest assured that the HPKUK team will create a beautiful hand painted kitchen or sprayed kitchen design that complements your home and your décor.
Speak to our team of specialist kitchen painters today and make your tired kitchen sublime once again, from the experts at HPKUK. You're only one click away from a beautiful hand painted kitchen, so please get in touch.