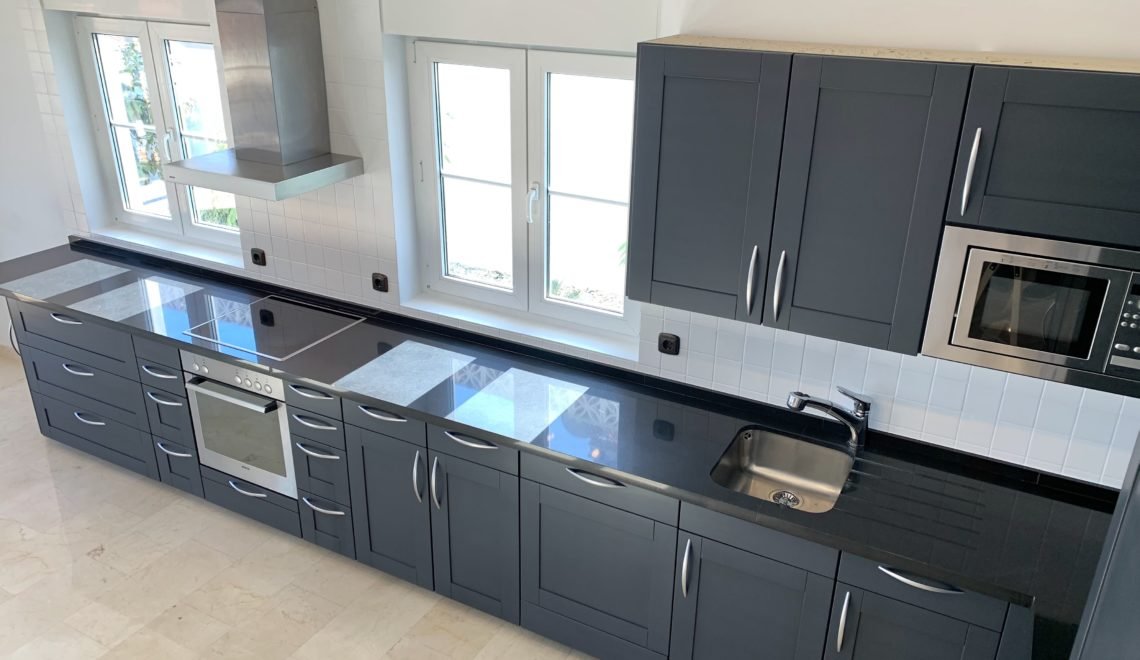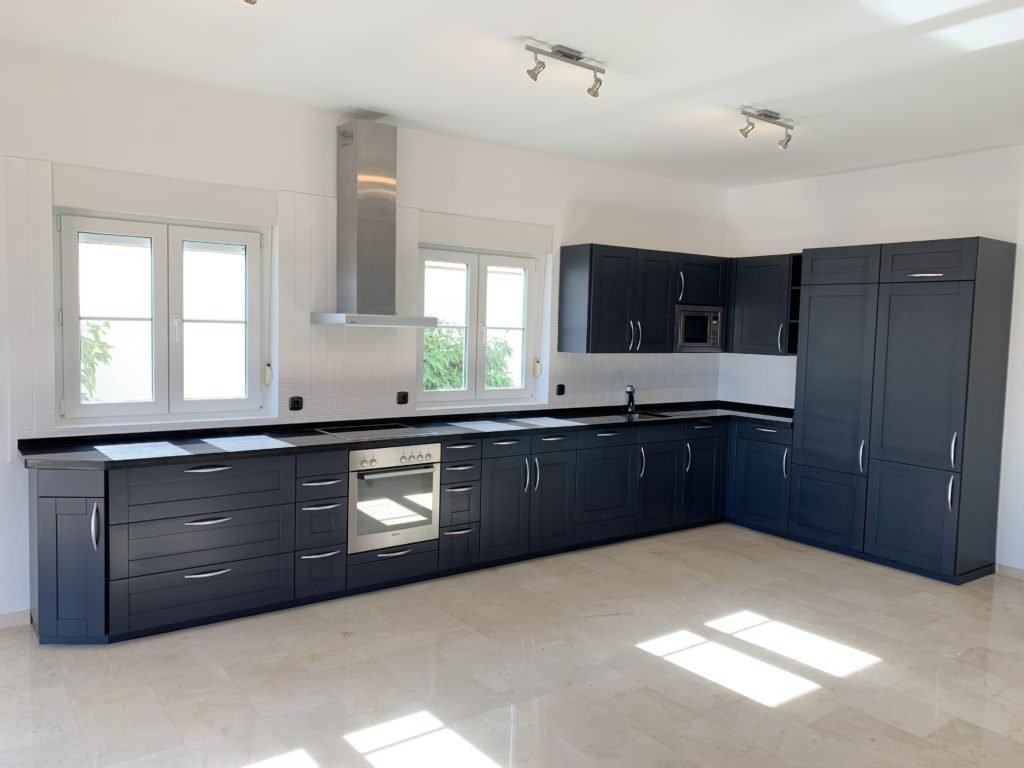 Eva, one of the interior designers from Paula Monaghan Interiors contacted me to see if a client's kitchen could be painted as part of a refurbishment they were working on. Eva was project managing all the interior modifications and thought that the kitchen could be painted to give it a more contemporary feel.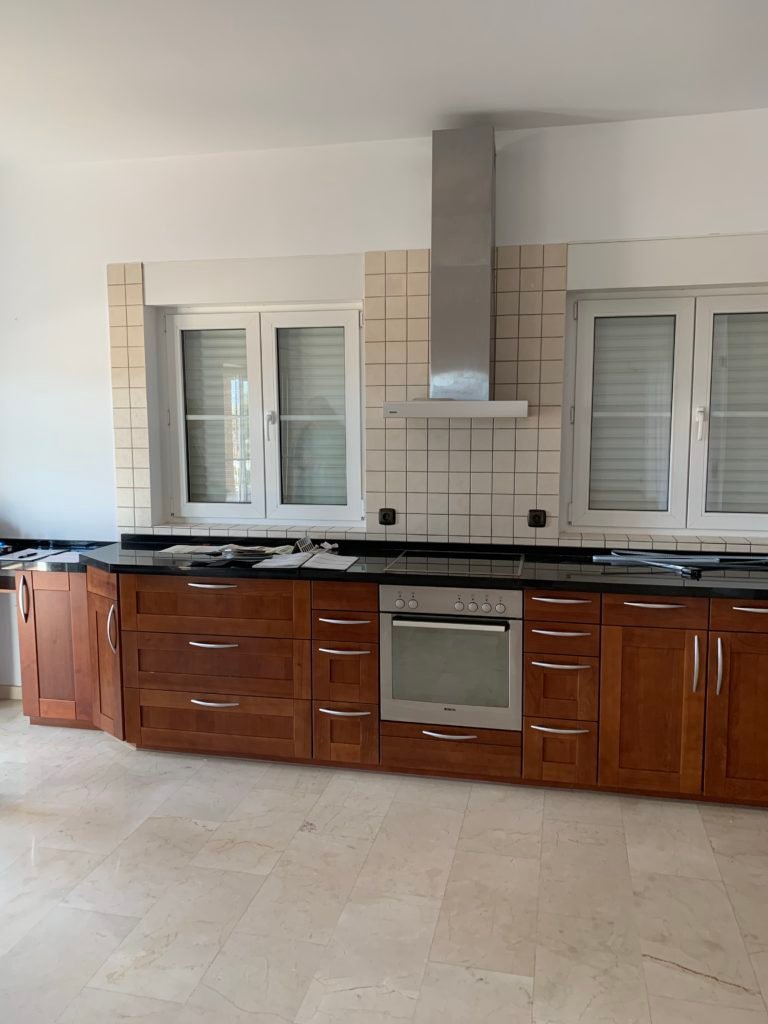 I've worked on behalf of Paula Monaghan Interiors several times over the years – I love the way they put their clients first and of course get to see the fabulous, individual styling they bring to each new project…..here was no different, we ended up with a very dramatic, beautiful kitchen transformation!
I had given Eva an idea of price to refinish the kitchen from photos which she thought just might be within their budget & a summary of the work & timescale to complete it.
We agreed to meet at the villa on a sleepy, private urbanization near Alhaurin El Grande – a stunning property with amazing panoramic views. Extensive work was being carried out inside and out and Eva said that the clients hadn't been sure that they wanted to add any more to the upheaval with a totally new kitchen but just might be interested in a refurbished one as long as we could assure them it would be a professional finish.
The existing kitchen was a Beech, Shaker-style door, around 15 years old and in very good condition. It's situated in one corner of a very large open plan kitchen, dining and living area and blessed with lots of natural light. Light and lots of it proved to be a major factor in colour choice.
We both felt it could look super painted in a strong, bold colour & agreed that anything less than 'brave' would be lost in the corner of the room. Dark colours can look overbearing or oppressive in small, under lit spaces but flourish when there's light and give solidity when there's lots of room.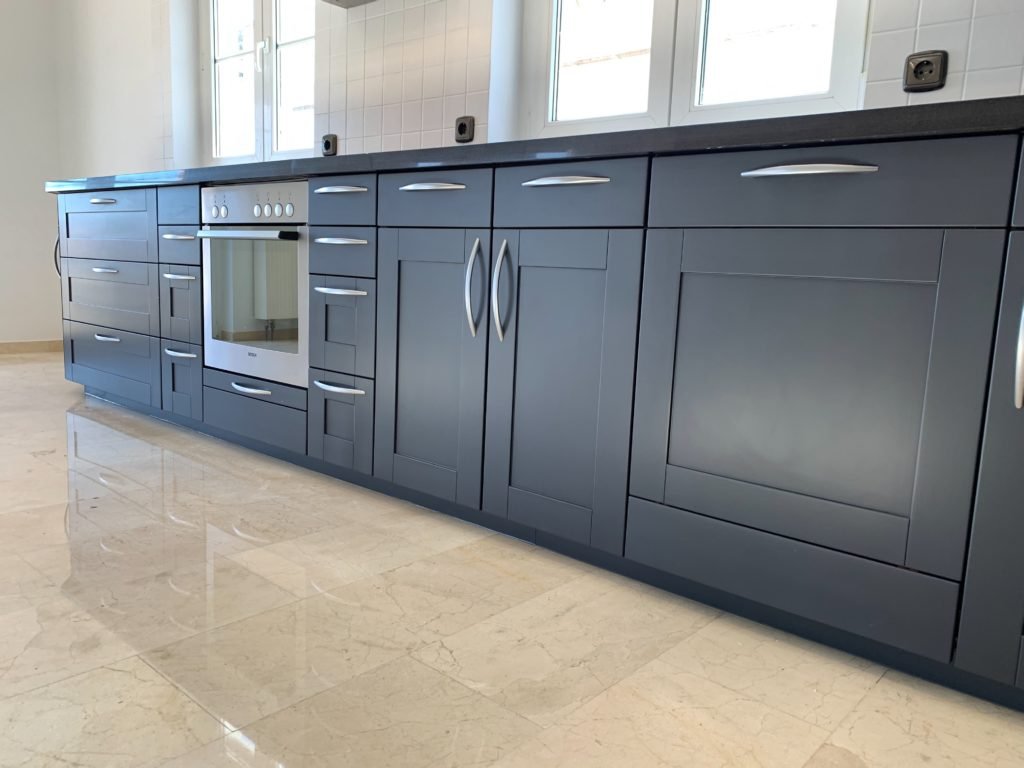 Eva felt sure that the clients would be pleased with a professionally painted kitchen with none of the fuss and expense of a new refit.
Several paint choices were sent to Eva's clients and they chose a match to 'Railings' to transform their kitchen. WE WERE SO PLEASED!!! It's a rich, inky grey/blue that's a softer option than black but with all the drama! It certainly doesn't get 'lost' and proved to be a fabulous kitchen statement.
I did suggest refinishing the tiles – they were a little 'tired' and the black grouting made them too prominent. When thoroughly cleaned and prepared, tiles can be successfully painted with the correct primer and drying times between paint coats. This was a finishing detail I'm glad to say the clients agreed to as well.
The existing handles hadn't tarnished over time so they were good to go back on! A polish and a buff up always works. If they are marked we can always turn them upside down on drawers for example to hide blemishes. There is always some sort of solution.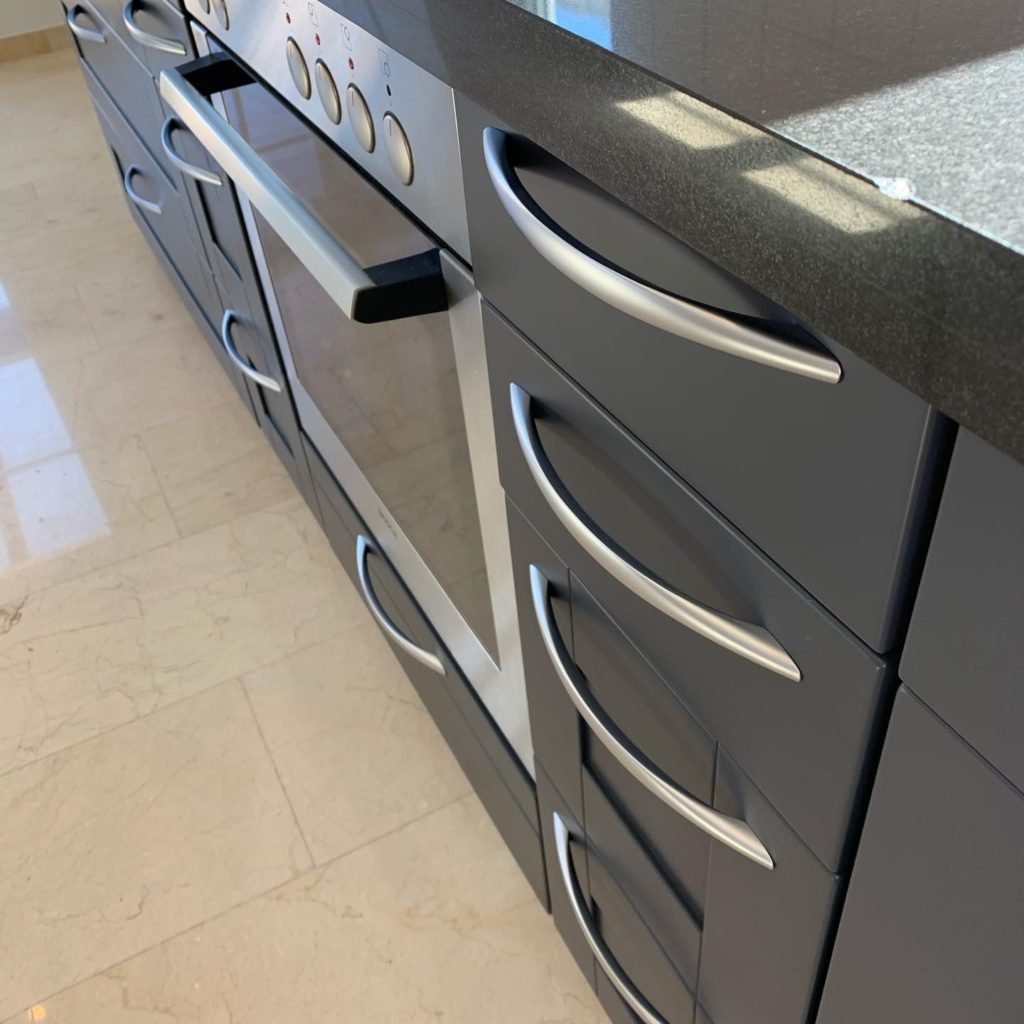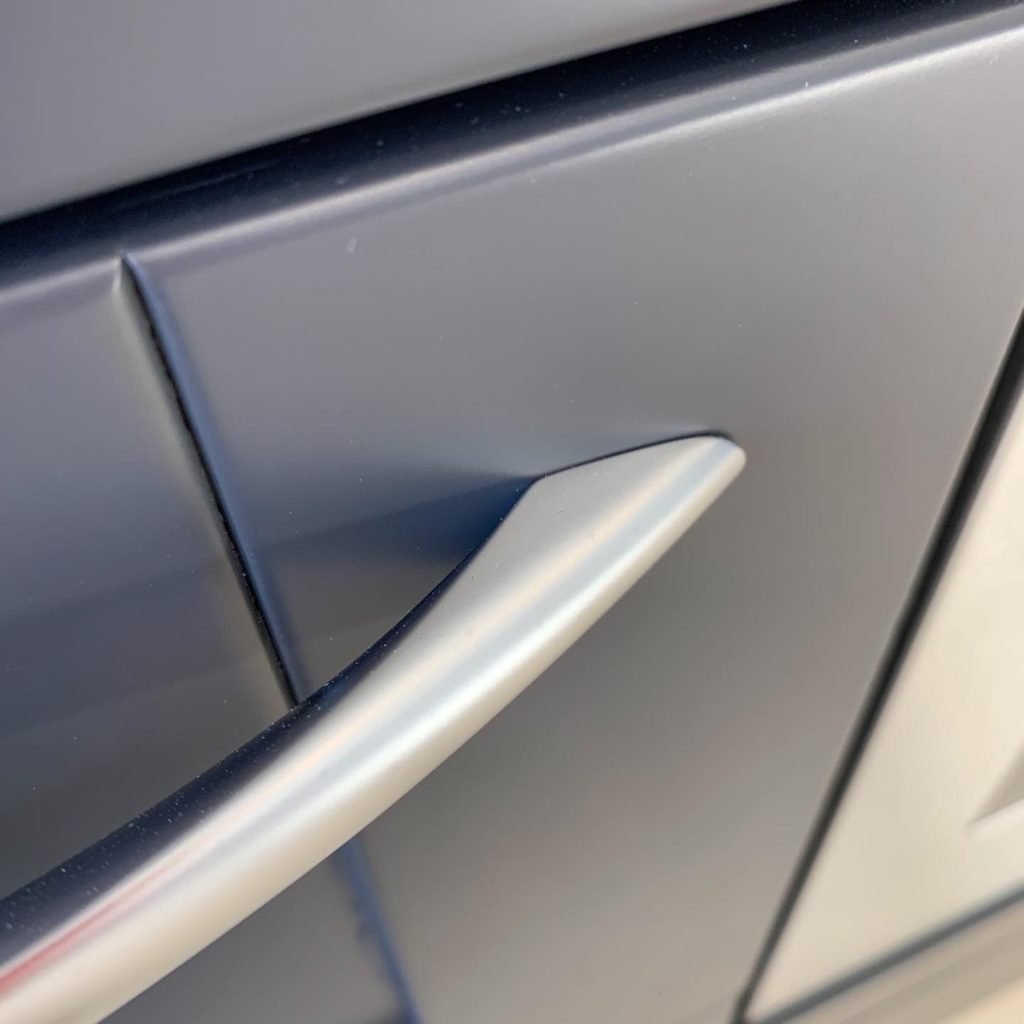 We collected the doors and drawer fronts to spray refinish in my workshop. This left end panels, unit edges, the underneath of the top cupboards, plinths and of course the tiles to paint onsite.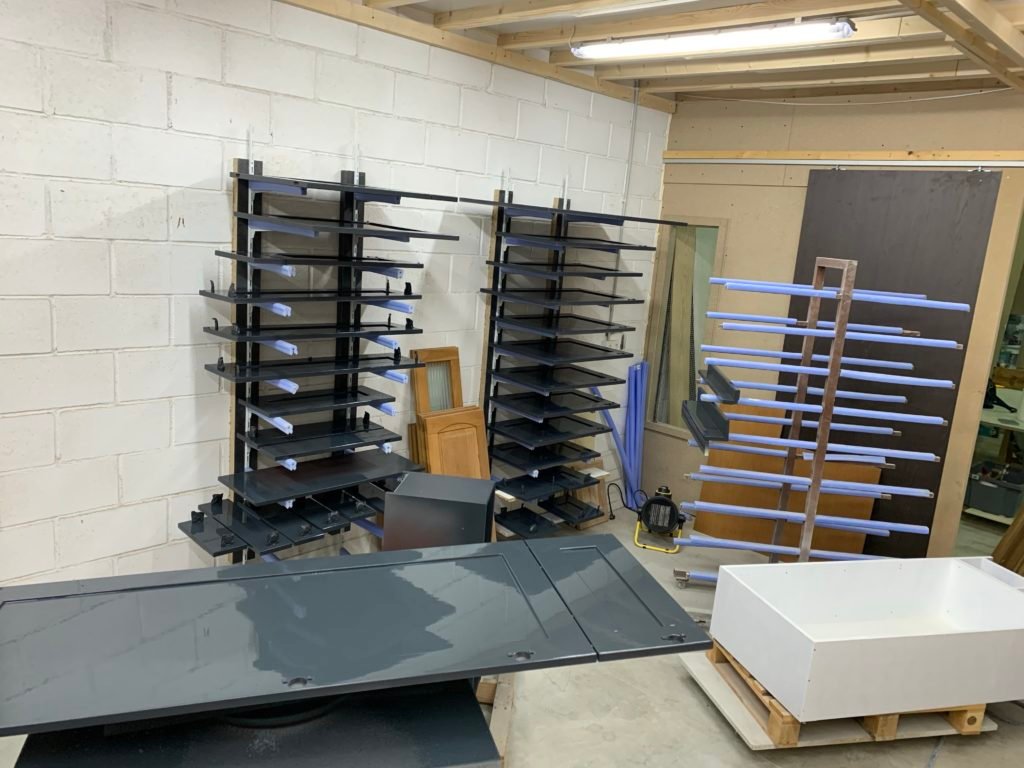 Unit edges are always painted the same as the doors – this means that when the newly painted doors sit back on the frames there are no ugly shadow lines and it really does look brand new! The oven and microwave are always pulled forward so that these edges are painted too which is an important finishing detail.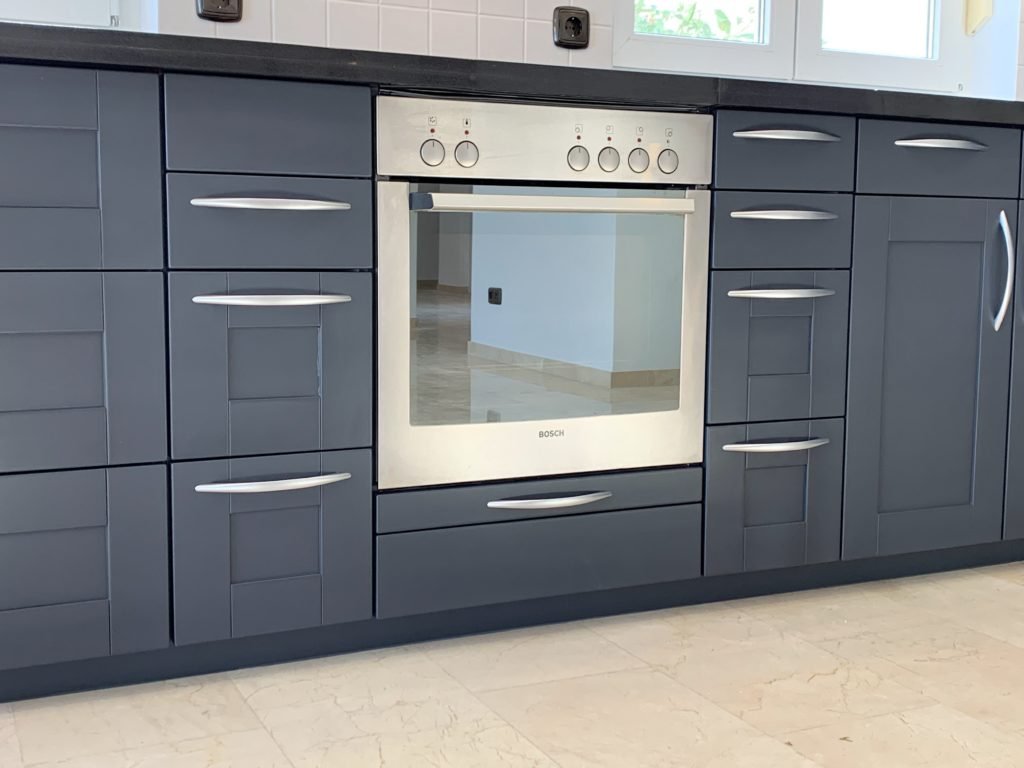 We always aim to get the painting work finished and the kitchen refitted in 7 working days and this was no exception. Onsite the kitchen units have exactly the same clean/prep/paint system applied as do the doors in the workshop. There can be no shortcuts to a durable paint finish – application won't work if the preparation isn't thorough and won't last if curing between coats isn't adhered to. Painting too soon between coats traps damp air which impedes paint durability. It's a strict paint process. Humidity can be a problem even in the south of Spain so ceramic heaters are used to counteract this in the workshop and I had fans circulating air onsite.
The tiles were adhesion primed, undercoated and had two top coats – the old silicone seal around the granite up-stand and windowsills was removed first and then re-done when the painting was completed to leave a crisp, sharp line.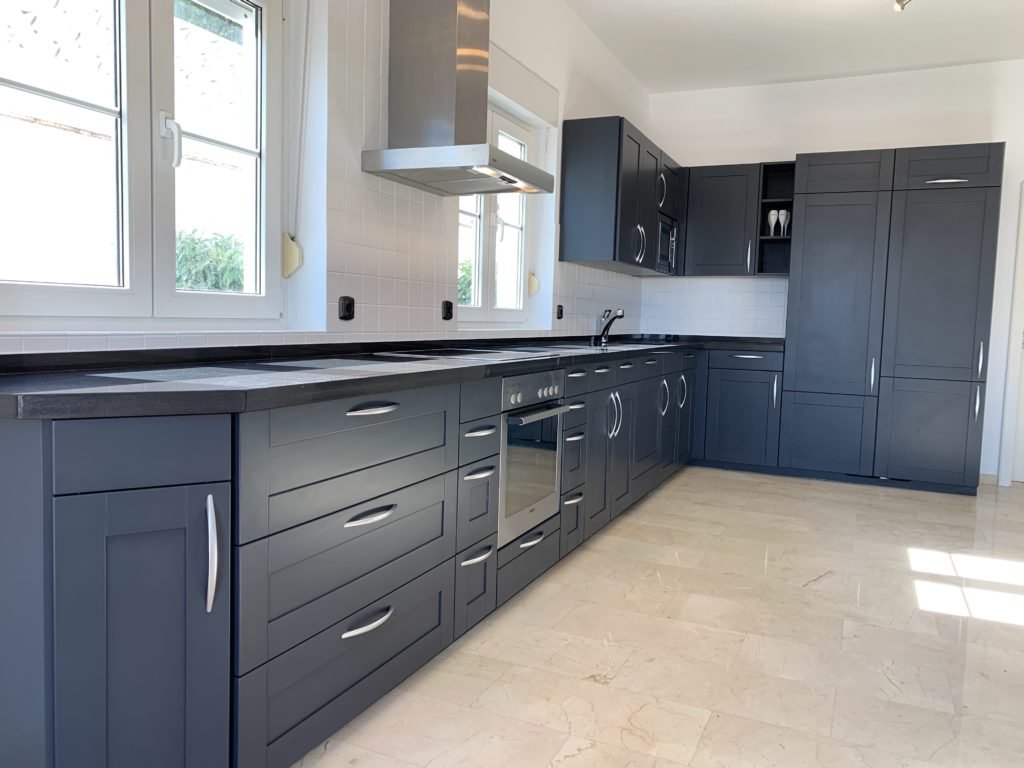 The plinth angled joints were re-caulked at the refit and painted to look seamless.
As we removed all the hardware at the start of the job we had noticed that several hinges were either rusty or broken so these were replaced at refit. Having the refit completed by a qualified carpenter makes the ultimate difference every time. Beautiful painted doors go back perfectly when adjusted by an expert, I make no secret of this. It's the difference between a good kitchen and a stunning kitchen, no question.
I was thrilled with the end result as were the property agents, Eva the designer and the clients of course! They had put their faith in Eva and her team, who in turn put her faith in me.
For a fraction of the price of a new kitchen they have a better than new one, custom painted to their colour specification and the tiles refinished to just underline that touch of sparkle and without any mess! This rich and oh so elegant kitchen now makes a fabulous statement as you glance right from the front door and the perfect backdrop for all of Eva's inspiration for the rest of the furnishings.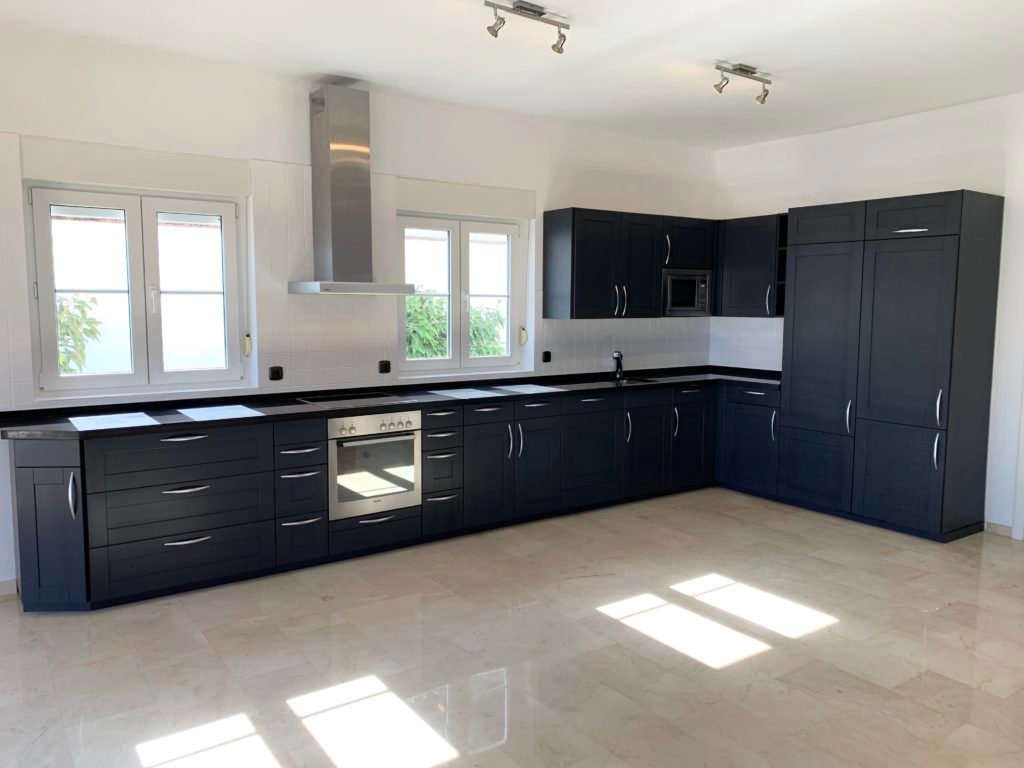 So if you fancy a touch of the glamorous in your kitchen please don't hesitate to contact us, we might just be able to help! And don't be afraid to over to the #DarkSide.
Written by Samantha Bayley