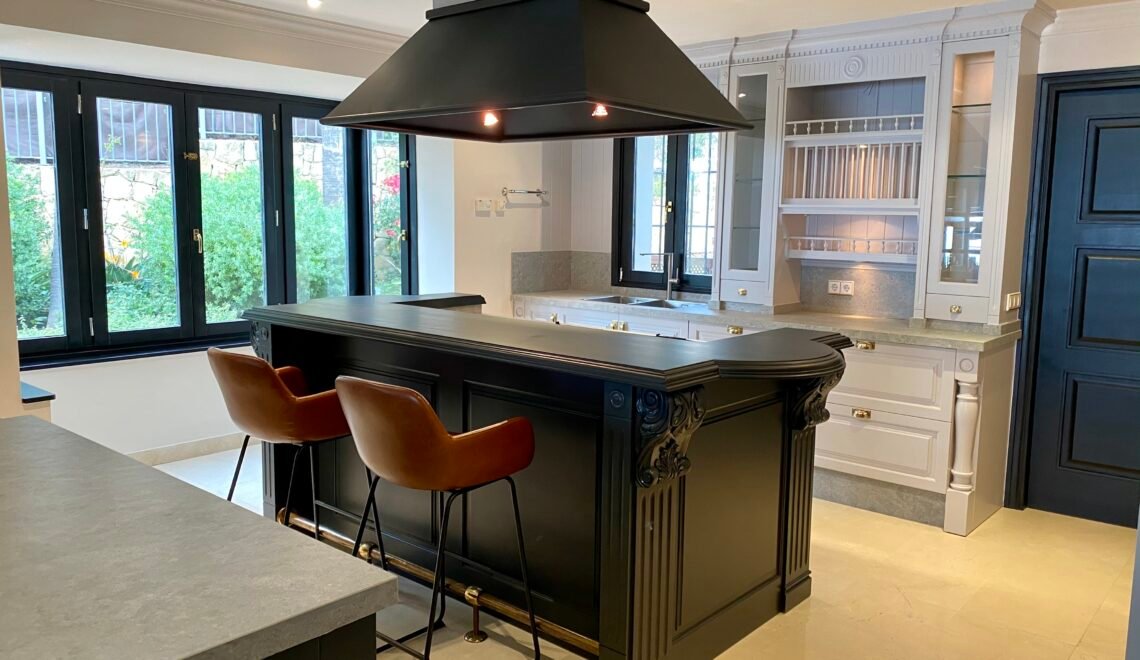 "Grey is the Queen of colours, because she makes everyone else look good"
What a fabulous kitchen to have repainted set in the hills above Marbella with stunning views of the sea. A hunk of a home kitchen! The family wanted to keep the elegance & luxury lifestyle look but give it a modern twist. A beautifully constructed, traditional style kitchen made a little more contemporary to suit the lifestyle of the new owners – a bespoke kitchen big on detail but a whole lot sleeker & more seductive now.
I've been working on behalf of
http://Www.berkeleypropertygroup.com
, a Marbella Construction Company who are carrying out extensive modifications reflecting more of a Scandinavian design in much of this luxurious villa. They contacted me initially via email as an option to repaint the kitchen as an alternative to replacing. The kitchen 'fits where it sits' in this lovely house & my quote to paint the kitchen cabinets was accepted after a site visit & survey. Berkeley Property Group building team took one wall down above worktop height to open up the kitchen to flow with the large dining & lounge areas. Increasingly kitchens are no longer stand alone rooms but part of family 'living' spaces – this immediately made a classic-style kitchen feel more modern. The clients wanted the ornate Island unit with its corbels, flutes & large panels to form a dramatic, rich centerpiece & chose RAL 7016 ANTHRACITE GREY for this & for the newly formed peninsular. Stylish & practical, this deeeeeeeeep grey is colour of the moment for internals & externals! It works with just about any colour palette but has just a hint of blue I think, though it looks almost black at the dinner party end of the day.
http://Www.joebayley.com
 did the refit. Hand built kitchens like this often mean that the doors fit the 'hole' they came from hence careful numbering at the beginning. This ensures a smooth & professional installation & expert adjustment. These are the finishing touches that are so very important. New handles were also carefully measured & installed. Kitchens with this much detail are my favourite thing to paint so it was with a tinge of sadness that I closed the door for the last time on the way out! Good communication was also key on this project as I was 'hired' by Berkeley Property Group on behalf of their Swedish clients so essentially interpreting their wishes through a professional intermediary. Mobile technology means that numerous progress photos/videos can be shared & Zoom calls made for any important decisions. From the photos you can see how the kitchen 'flows' with the energy of the house, its smart & functional yet retains all of it's original elegance! We helped to make this house more of THEIR home & so it now begins a new kitchen story, more of a Swedish kitchen & definitely right up there as kitchen goals! Do you have a kitchen in need of a repaint? Please don't hesitate to get in touch, we'd love to work with you. Written by Samantha Bayley