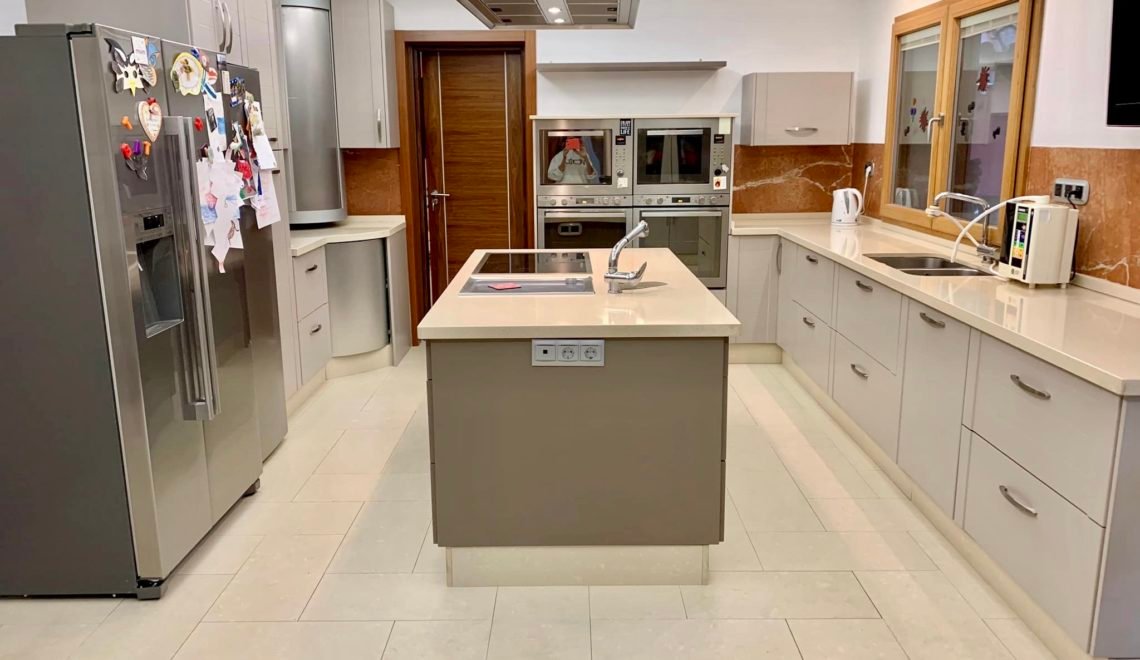 This beautiful painted kitchen transformation was in a stunning family villa in San Pedro and not far from the beach.
It was a 15 yr old solid Oak kitchen that was the real centre of the home for little ones, family dogs and the grown-ups. A kitchen made for cooks.
Their main concern was that the kitchen was simply too dark and over bearing – although it was clear that it had been an expensive kitchen originally, I had to agree it was rather sombre.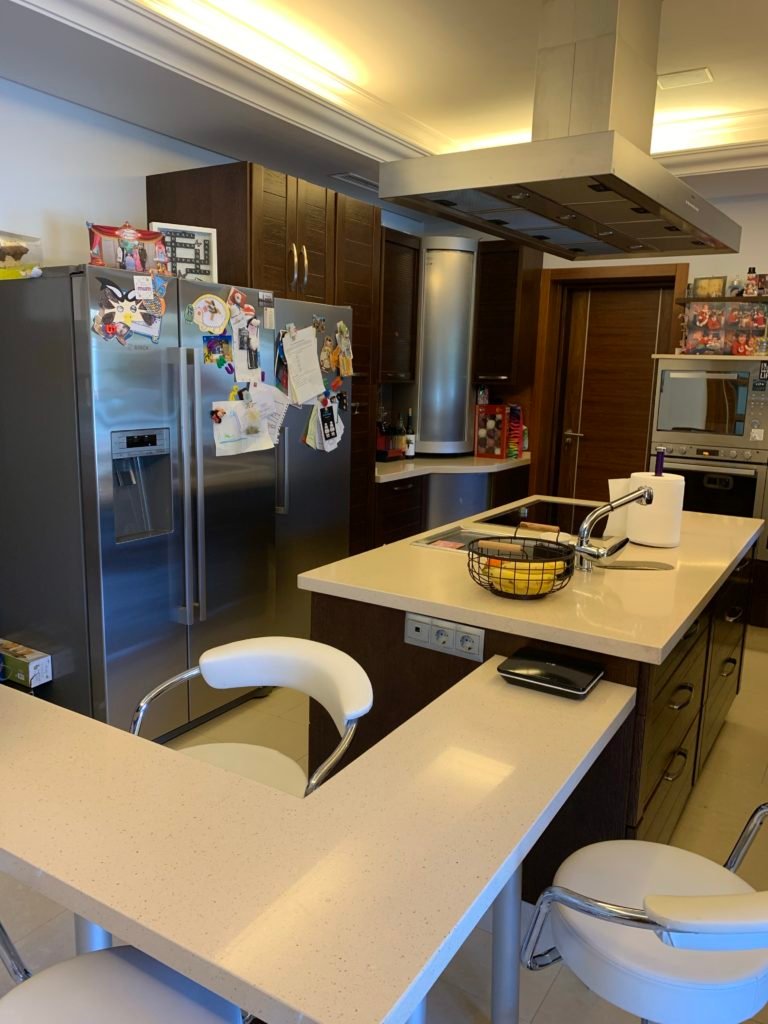 The kitchen layout was still very current with a large central island and by professionally painting it and not replacing it was going to save them thousands of euros.
My clients contacted me first by email with a couple of photos just to see if the kitchen could be painted. Accurate quotes can be given from photos but as these showed 3 tambor doors – doors that resemble shutters – I said it would be best to come and have a look.
Tambor doors CAN be painted if still running smoothly but require careful sanding between the strips to ensure the mechanism will still raise the shutter they form. From the site visit it was clear that they had worn over time, were sticking and it wouldn't be a good idea therefore to paint them.
I took measurements of the 3 cupboards to include the making of 3 new opening doors to replace the original tambor. They were very keen that the wood grain would continue to show through after painting.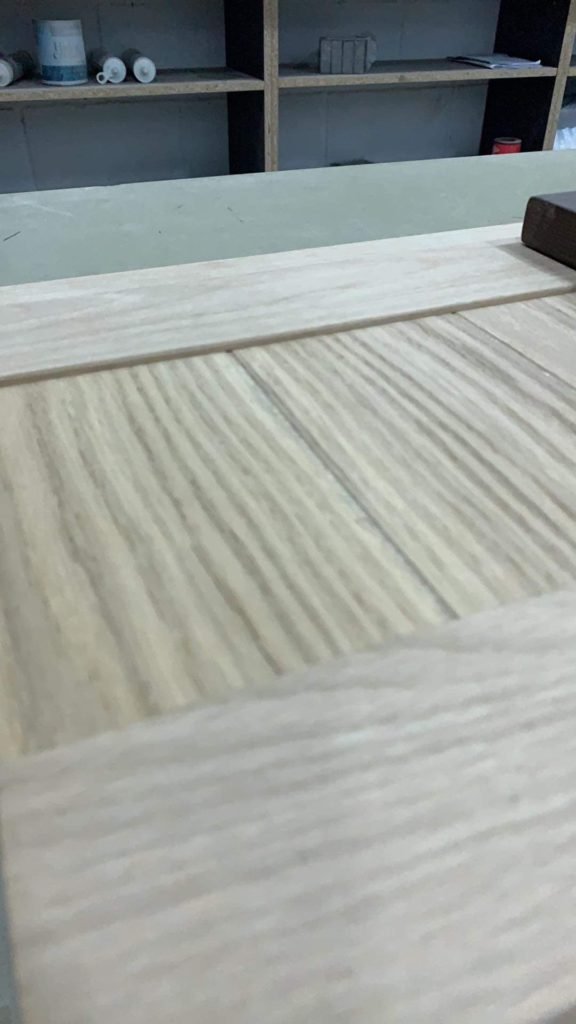 These would be made to exactly the same spec as the doors in the rest of the kitchen and from solid Oak so that the grain would be the same.
I was also asked to include the refitting and repairing of the granite plinths – over time these had moved and looked untidy.
The existing handles had probably been expensive and still looked as new so there was no need to change them. A whizz through the dishwasher is sometimes all that is needed to really polish them up!
The splash backs were going to retiled at some point which would be a lovely contemporary finishing touch.
I did suggest changing the lighting to 'white' light which does make an enormous difference in kitchens thought to be dark. When I went back with various colour samples I couldn't believe how much brighter it was!!
The new, brighter lighting was also an important factor in choosing the new colors. Georgina was able to choose a far deeper shade than originally planned for the wall units and a lovely contrast for the island. Rich, warm NOT grey NOT brown tones which would combine to restore this family space into something to be proud of.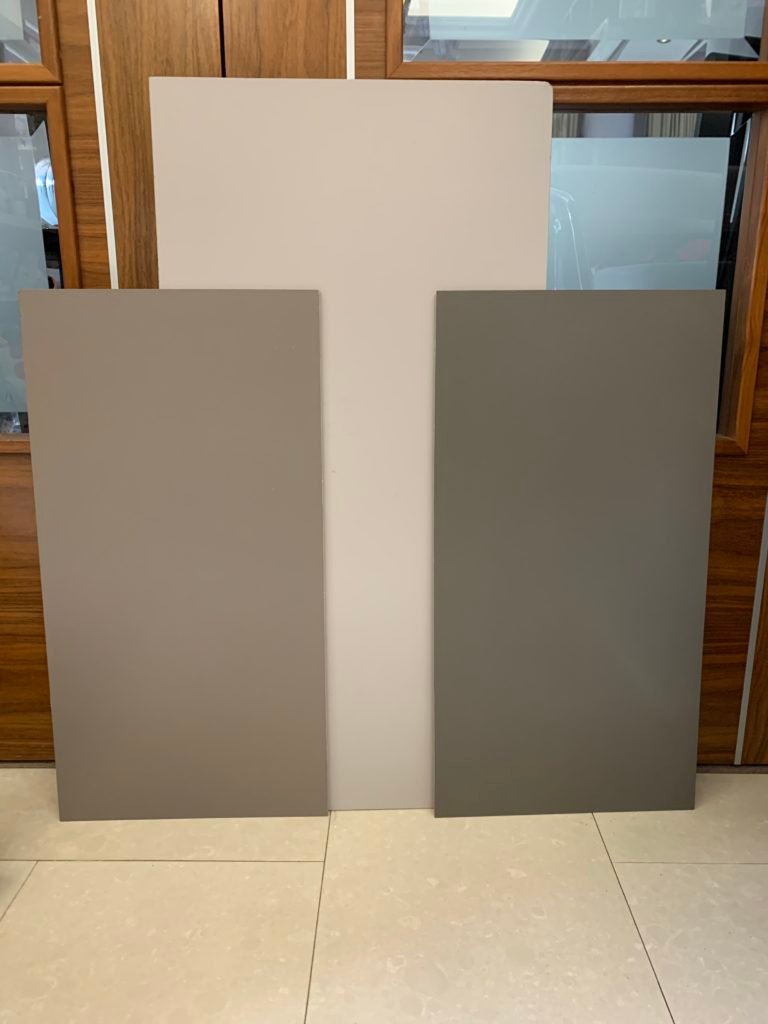 The doors and drawer fronts were carefully labeled to make fitting easier and this time to indicate the two different colours.
Handles and hinges are always removed before we take them to the workshop. It's unprofessional to 'paint round' hinges, it's messy and time-consuming with nothing to gain.
At the workshop the doors and drawer fronts were thoroughly scrubbed clean and left to dry. They were then sanded, primed and filled where necessary before undercoating.
Two full top coats were spray painted in a satin finish.
Onsite the same prep and paint system was applied to the unit end panels, fridge housing, carcasss edges and the underneath of the top cupboards.
At refit there was a last minute decision not to put back the breakfast bar! That is going to be cut down and placed against the kitchen wall as a homework space for the children with a painted tongue and groove panel beneath it.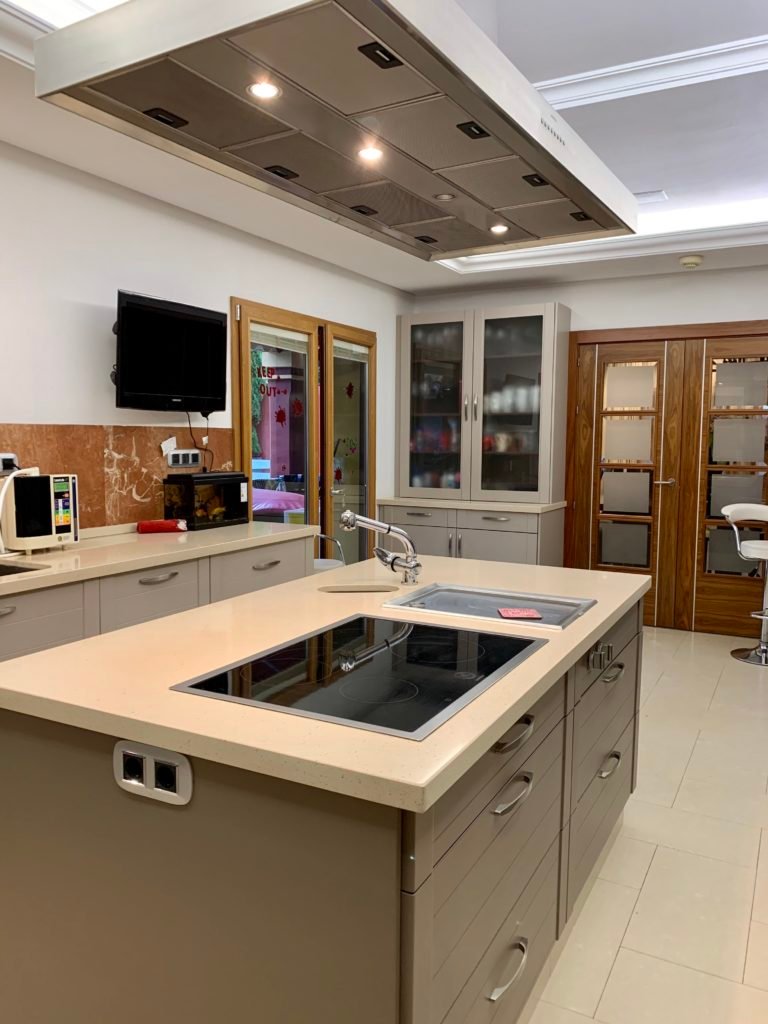 Georgina and family were delighted with the transformation – the subtle combination of grey/browns really made it into an uber chic kitchen space and no longer a little drab and dreary. I know they were itching to get a new kettle, toaster etc as well!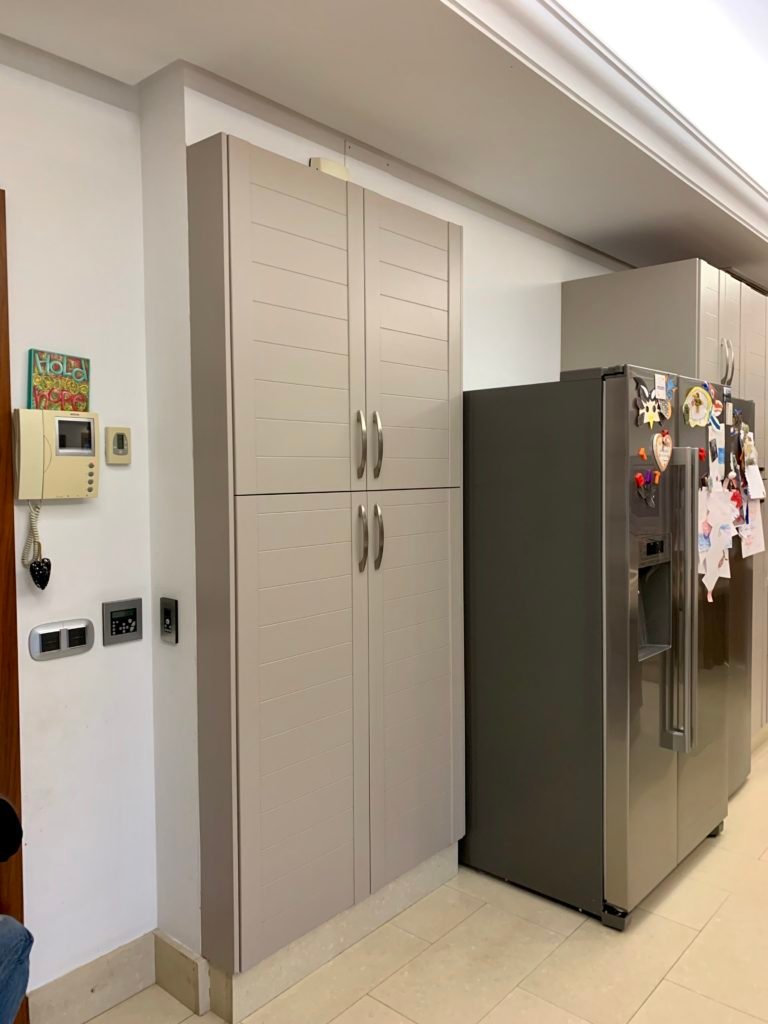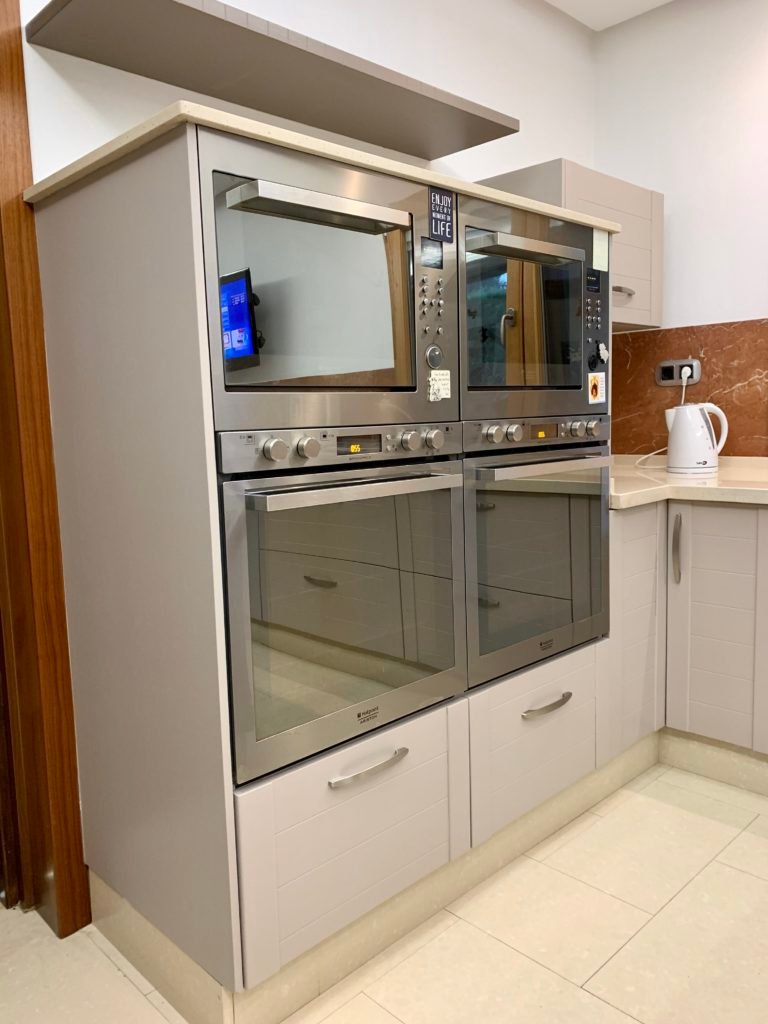 Big or small and every kitchen in between gets exactly the same bespoke approach to being painted and refinished.
Thank you for having us and thanks for all the tea!
Written by Samantha Bayley