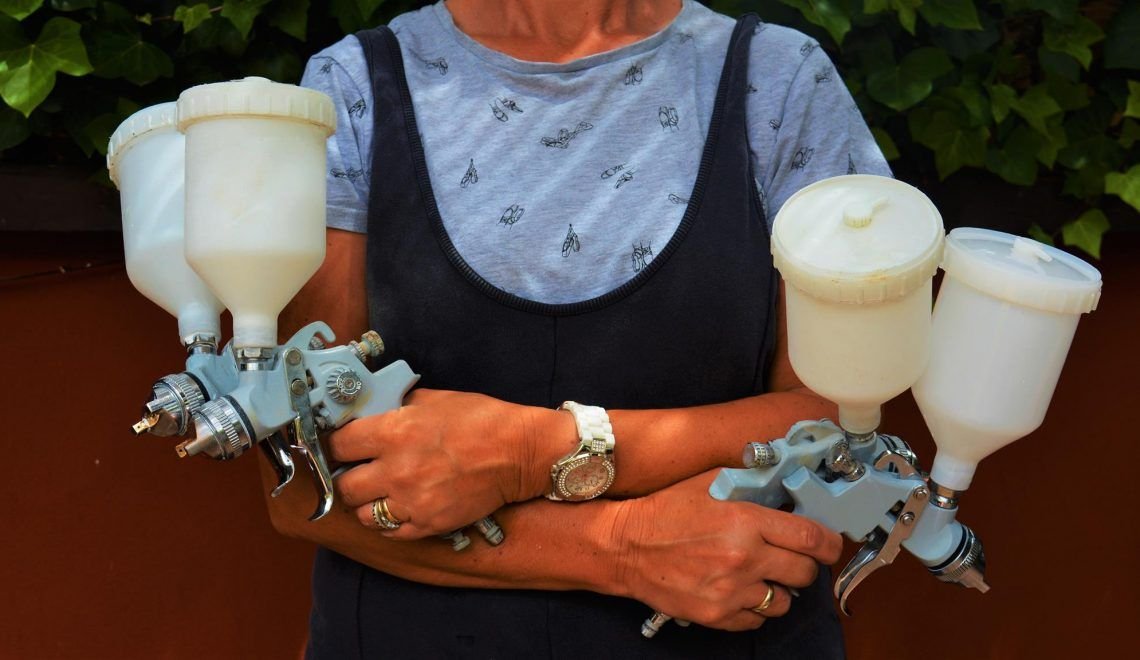 It's been an exciting week!
I bought a new spray gun which brings the current total to four and speeds the operation up a bit. How? Well I can now have four different paint finishes on the go which increases productivity and makes better use of time. And that's just spraying, not the hand painted stuff. Theory says I can glide from one to the next without the immediate need to clean up. New guns are always a treat as everything works with precision even though all the knobs need a twiddle to get the material flowing properly. Brand new filters are just a joy – all the little holes 'breathe' and you're not hours with a toothbrush trying not to curse.
The trusty ole Paint Wagon passed the ITV first time round AND a job confirmed this morning as a direct result of seeing the old girl parked outside a villa I'd been working at. Driving about I keep wondering what people are staring at then remember the van is sign written.
The Painted Kitchen has expanded into the garage as well as the shed and spraying area! Hubster has kindly moved the storage of his tools to a workshop. This makes a huge difference as the drying rack space has tripled. Curing/resting time is as important as the painting. There is still a bit to do but it's been fully functional this week and reasonably tidy. The expansion maybe small but makes planning each project easier and more efficient. I don't know where Joe's tools have gone, hope it isn't too far away………I won't be popular.
And so there's my week, round about the new kitchen doors that have been prepped and undercoated, the shed I painted, some sample doors sprayed ready for client approval and our little sailor girl coming home unexpectedly for a few days.
A GOOD week, Sammy got her gun and is planning to 'shoot to thrill' on all cabinet doors. Hope you've had a good week too, I'd love to hear xxxx