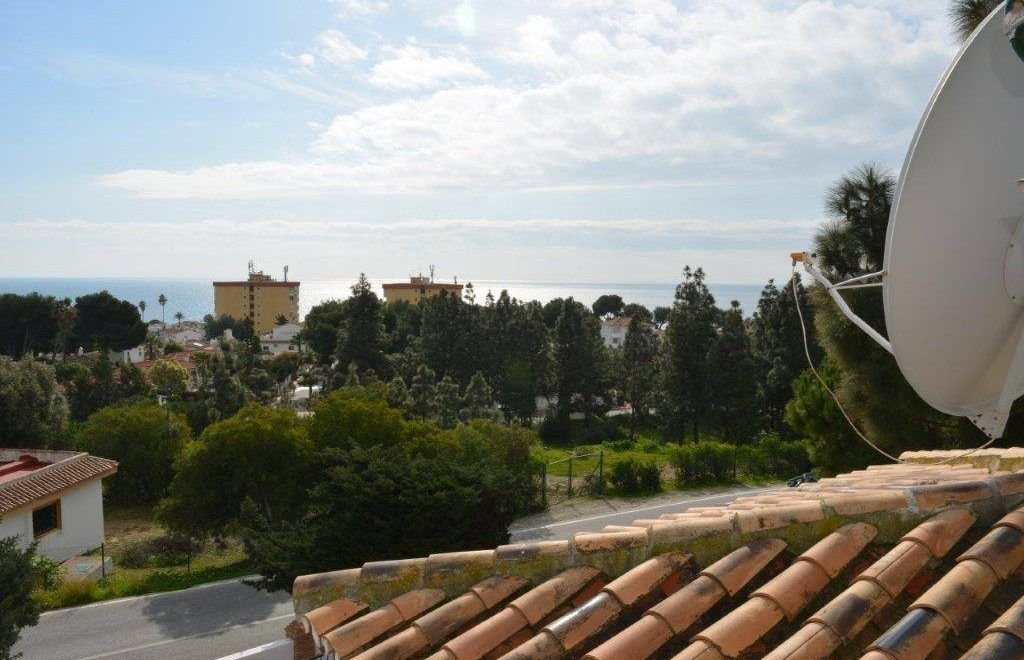 Everything's better with an ocean view and this is certainly true on one of my current jobs. Delighted to be working for Paula Monaghan Interiors in a beautiful house less than a kilometer from the beach at La Cala de Mijas with the prettiest view of the golf course and a virtually uninterrupted vista of the sea.
The house is fabulous anyway with 6 bedrooms, large swimming pool and mature garden but being modernized ready for rather special holiday lets. Paula Monaghan Interiors are experts at styling and creating a unique look. Having heard a little of what Paula has planned I can't wait to see the finished product!
Just about every trade is onsite and I'm there to refurbish the furniture in the bedrooms and two of the bathrooms and paint the kitchen cabinets. Currently not the only painter which makes a nice change, there's Sergio working on the outside, Roberto on interior doors and me. My mate Eric came with me for a couple of days to help with the prepping.
The original build was to a high standard, all the furniture is solid oak and even the bedside cabinets weigh a ton. The aim is to 'lighten and brighten' by painting the furniture in a flat, matt finish based on F&B Slipper Satin. I've used 3 coats of a strong adhesive primer to cover the 'brown' followed by 2 topcoats applied with a brush. Thorough prepping is essential or the paint simply won't stick, painting seems like the easy bit! Finally all the tops will have a clear coat to further protect them. Hand painting takes a little longer but I love it! It's so brutally honest, butt hinges and in frame hold no secrets!! Get it right and it's silky smooth to the touch.
The kitchen is currently under construction, one wall has been taken out and another opened up to create more light and space with a breakfast bar. The kitchen is going to be painted based on F&B Light Blue. Getting to the final colour ended up looking like a chemical equation, poor Leo at Pinturas Torremolinos, his patience is amazing.
So, three bedrooms to go and then the kitchen when it's ready. I normally don't stop when I'm onsite but it's hard to resist the odd look through the windows at this one.
(Slipper Satin takes it's name from the delicate colour of the silk used in traditional ballet slippers)
Paula Monaghan Interiors are at the 'Emporium' La Cala de Mijas and in Unit 13 La Morena El Canadon, Malaga. www.paulamonaghan.com