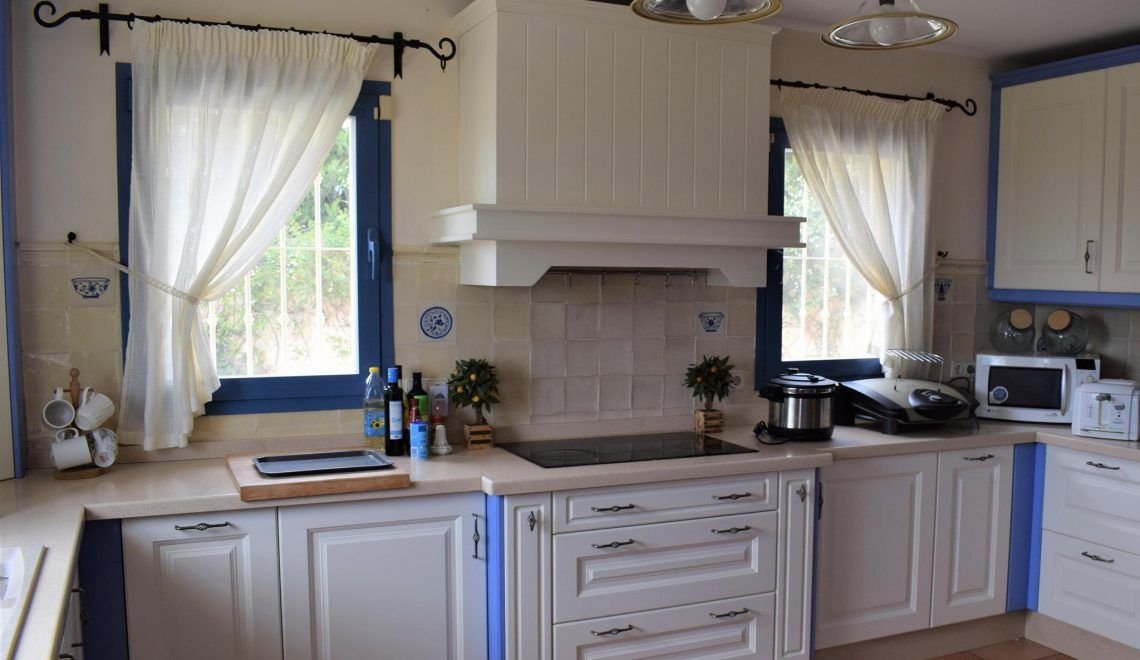 This week I've been in a lovely house in Estepona – turn off the AP7 and drive a little way up into the hills and goats still roam freely, dogs sunbathe in the middle of the road (I got used to going round as they owned it!) and there's not a sound. On the Campo side it´s easy to see that agriculture remains as important to Estepona as the beach, the sea and tourism.
My clients have lived in the house for 8 years and inherited their blue kitchen. The kitchen was originally a very expensive build, completely hand-made with painted timber carcasses and Douglas Fir wooden doors. Soft-close hinges were considered a luxury then as were the pull out drawers and baskets. Cornflower Blue was very popular in the mid 90´s so we estimate the kitchen to be around 20 years old and in excellent condition. As work began on the doors I could tell that the kitchen had been added to at some point in it's history as there was a subtle colour difference here and there. Parts of it had previously been hand painted and sprayed too.
Besides a little wear and tear the paint still looked solid though there was some water damage to the cooker hood. They didn't want to eliminate the blue entirely and the house didn't suit a more contemporary kitchen. Thus we settled on re-painting the doors and drawer fronts and repairing and painting the cooker hood. The blue was to provide a ´frame´ for their new look kitchen.
The inspiration for the colour came from the creamy tones in their hand-made wall tiles which then meant the doors would be a good contrast with the Silestone tops.
I used a synthetic primer on this job to seal what had gone on before and then 3 undercoats to cover the blue. It´s always a good idea to get your ´finish´ first before top-coating, then your colour should go on smoothly. Two top coats and it all looked very smart.
The cooker hood was made from MDF and needed a lot of sanding – started off with 80 grit sand discs on the orbital sander working up to 220 as the ´fur´came off. Then had to apply several layers of filler, sanding in between to eliminate the damage. Luckily I was able to sand back and keep the form of the hood, sometimes MDF can blow so badly that it can´t be rescued.
After sealing the raw edges with glue, the hood was then primed with a ´multisuperficies´ paint and then treated the same as the doors.
I'd done a colour match on the blue in case they wanted any blue detail back on the hood, better to be prepared especially up a mountain! They didn't but I was able to touch up for them here and there on the blue carcase to give that extra bit of sparkle.
The handles had been put through the dishwasher, amazing how this simple trick can make them look like new. By this stage my job is largely done – I do handles, check each door as it's refitted, make tea, clean and talk too much.
Deryn Beynon the fitter worked like a trojan! Like a child I'm always so excited to see the doors go back on! They had been ´mine´ for a week and now it's time to let go!
It's hard work putting doors and drawer fronts back especially as they had originally been planed to fit in some cases. He started at 8.30am and they were all done by 2pm which is a record for a big kitchen! Cheers Deryn!
Fresh paint, newly adjusted doors, shiny handles and looking good!
It's such a privilege to work in someone's home and I never tire of seeing the transformation.
Family pooches you got your kitchen back, thank you Estepona :0)